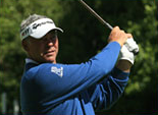 Stephen Feeney and the SightRight team would like to congratulate Darren Clarke on his appointment as Ryder Cup captain for Europe in 2016.
It was announced today that the Northern Irish player will lead the European team's title defence in Hazeltine, USA next year.
Clarke is a Ryder Cup legend and four-time winner of the tournament as a player and has been victorious as a non-playing vice-captain on two occasions.
The 2011 Open Champion enjoyed some notable successes when using SightRight's methods like the 2008 Asian Open after five years without a tour event victory.
SightRight's inventor Feeney, who is the world's leading sighting and alignment expert, was delighted for Clarke when he heard the news.
Feeney said: "What an amazing moment for Darren who is the peoples champion, I'm sure every single person involved in golf is overjoyed for him and I'm honoured to have worked with him. I'm sure Darren can lead us to another victory in Golf's showpiece tournament."
The innovative SightRight putting alignment aid is available to purchase via http://sightrightgolf.com/